Luke Jay,
Friend of Run Amok, recently ran the iconic UTMB, an ultra marathon in France that follows the Tour du Mont-Blac and kicks off in Chamonix.
Luke was the 2nd American across the finish line in a race that notoriously leaves Americans in the dust. 100-mile efforts can be a strange trip. A moment of foggy bliss followed by moments full of apathy and discomfort.  You must believe in the full power of your mindset to get you where you are going. Sometimes the miles fly by, but often they barely crawl.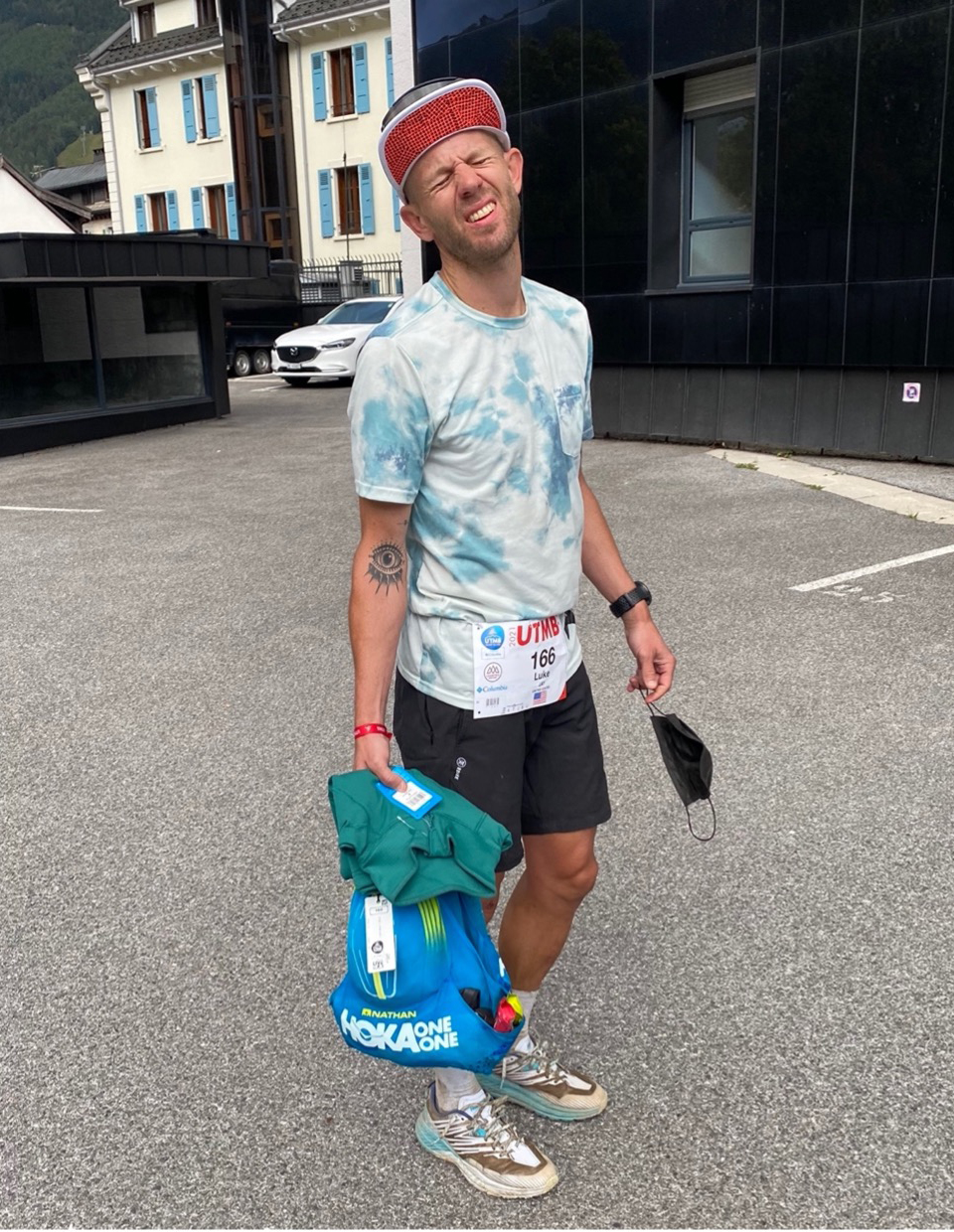 "They say there is beauty in the struggle; if that's the case then this is a full-blown beauty pageant."
100-mile efforts can be a strange trip. A moment of foggy bliss followed by moments full of apathy and discomfort. You must believe in the full power of your mindset to get you where you are going. Sometimes the miles fly by, but often they barely crawl. I focus on staying present and enjoying my trip through France, Italy and Switzerland. This is a privilege and elective discomfort. I'm here for the full experience and to dive a little deeper within myself. Each time I've embarked on one of these 100-mile events I learn something. This one is particularly special — 106 miles, most vertical (33k), biggest field, and by far the most competitive. My mantra — 'Whatever it is, at any given moment, I'm here, and I'm gonna have a good time. Respect the distance. Respect the mountains. Be stubborn as fuck.'
Chamonix is a place where people appreciate and actually come to watch and cheer on ultra-racing in the mountains. They celebrate endurance. They commemorate the struggle. So much pageantry and drama, but strangely it fits. This place is dramatic. These mountains are big, sheer, and magical. You find beautiful Rifugios after climbing for a few hours up the alpine. You can stop to rest and have a coffee, enjoy meat, cheese, a pastry, a cold beer or glass of wine. That is, unless you're racing UTMB, then you give a little nod and keep moving.
This race starts fast. Adrenaline gives way to the thousands of cheering onlookers lining the streets and trails for the first several miles. Think 'le Tour De France' levels of passion within these crowds. All this energy harnessed within 2500 runners is suddenly released at the squeezing of the trigger of the gun to signal the beginning. Oh, how we collectively fail to remember that we have 100 miles to cover. The kilometers persist as the sun sets and the temperatures drop. Up high and far from the villages below, there are fans around a bonfire and lining a rocky climb. They ring their bells and cheer wildly, like coyotes in the night. I wait until near-complete darkness to flip on my headlamp. It's time to settle into my rhythm, to just keep moving — chop wood & carry.
Success and defeat is happening all around me. I see a former UTMB race winner slowly walking dejected as I pass him on a steep climb. I see a well-known pro walking back toward the previous aid station. I see another runner sitting alone on a rock, head in hands. This course is tough, relentless. I can see a line of headlamps lining the huge alpine climb ahead. I look back and can see hundreds more lights below me. I throw my jacket on to stay warm as we climb to one of the high points of the course. Checkpoints this high resemble a high-altitude climbing camp with gore-tex down suits and four-season tents. Yet, even here, there are a handful of die-hard fans with front row seats to the Friday night fight!
Keep moving forward, I consume calories and focus hard on the task at hand; — inch by inch, mile by mile. I don't overwhelm my soul with the fact that I'm not even halfway there. The climbs and descents are harsh on the legs and feet. I keep my shoes tighter than normal so my toes don't slam into the front of my shoes. I remember looking at my watch at 37 miles and seeing 11k of climbing already done. Wild. I arrive in Courmayeur around 3am after a long, hard descent. Just shy of 50 miles done and I'm looking forward to seeing my wife, Becca. A quick refill, down some calories, fire up a new headlamp, grab a fresh shirt, and I'm off and running through the sleepy, silent town. It quickly pitches up and starts another big climb. I make friends with a French runner. It's nice to work together, trading pace along the next section of rolling and technical terrain. The sun is coming up with the promise of some warmth, and for some reason it feels like all is well now that it's morning. At the aid station checkpoint at the base of Grand Col Ferret climb, they suggest we leave with jackets on as it's windy and cold. This steep climb will get us up to another high point of the course. The views are a brilliant distraction from the feeling of eternity on this brutal terrain.
I take stock — I'm in a good spot mentally and physically. I keep a good pace trying to stay within sight of my new French friend and another runner from the Czech Republic. My quads are wrecked, so I just try to focus on each section between aid stations. You'd lose your mind thinking about the 40 miles left to the finish, so I don't. I just keep chopping the wood one log at a time.
Around hour 23 I remember looking at my watch and seeing 30k feet of vertical climbed. Something I've wanted to do is "Everest" where you try to climb 29k in under 24hrs. I was a bit stoked to check that box and I hadn't even thought about it until this moment. I rolled into Champex-Lac aid station around mile 75 and put on some fresh shoes and socks. I also grabbed a blueberry tart from the aid station, and it was truly magical. I left that aid station and felt great. I ran steady for several miles and passed more runners. Once I topped out at the last climb an old French guy at the aid station told me I was second American runner and first American male. That's cool. I'll take it. The long final descent felt numb and oddly enjoyable. Knowing the finish was near I was overflowing with appreciation, so much that my legs felt totally fine. I soaked in the final cruise to the finish as much as I could. The last 25hrs was a wild ride. There's always this absolute: The mountains will keep you humble every time.
"'Sacred' is the only word I can think of that encompasses the massive singular physical effort along with gratefulness for the privilege and a reverence for the land, earth and mountains."