Last winter I traveled to Portugal for the first time to stay with longtime friend Nic Von Rupp.
Within a few days of arriving a big swell with clean conditions popped onto the charts. Nic warned me prior to the trip that his focus was on Nazare this winter, and with this swell being the first big pulse of the season, he was going. Even though my boards never made it off my flight, I jumped in the car thinking at least I could shoot some photos. We arrived at Nic's Nazare warehouse to an HBO film crew and a slew of the world's best big wave surfers being interviewed before the first clean day of the season. I was a bit out of sorts as Nic simultaneously talked to the camera while organizing his ski's, boards and safety gear. I tried not to get in the way.
Being as Nic has a safety partner I assumed I was going to sit this session out on the cliff. But next thing I know Nic throw's me an inflation vest and wetsuit and says, "Get ready." I would be riding shotgun on his extra ski with Scottish grom Ben Larg. Before we rode out of the harbor the two jet ski's joined hands and Sergio, Nic's tow partner, said a prayer. That's when things got real.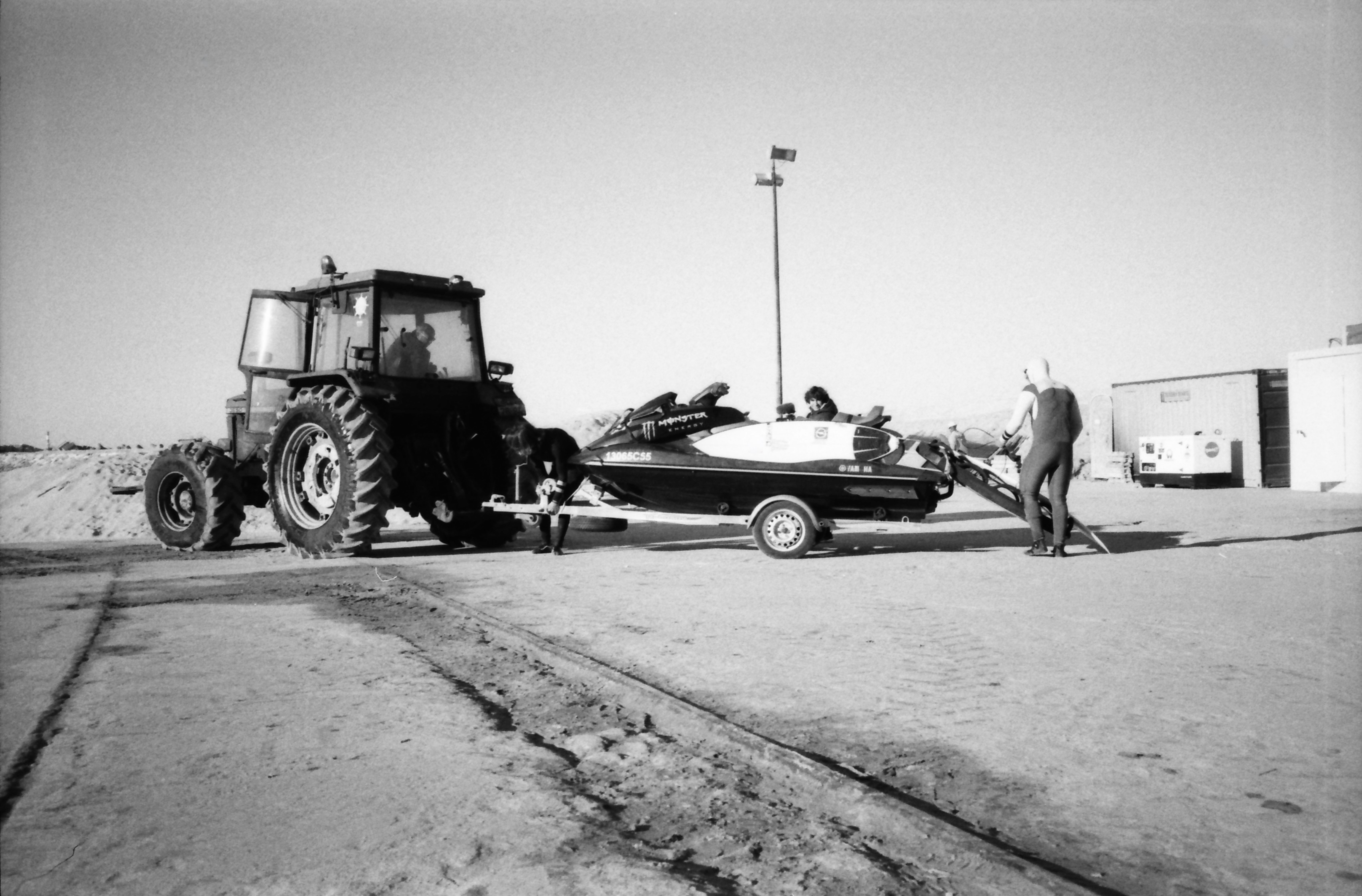 As we exited the harbor the Nazare cliff came into view, the first time I had seen it in person.
Massive sets loomed in front of the rocks, looking more like mountains than waves. As we entered the lineup I was filled with adrenaline just from watching on the ski.
These were the biggest waves I'd ever seen up close. But after a few hours of Nic towing some bomb's, he decided to take a water break. I had to pee, so I jumped onto his 10'5" and within a few minutes a massive set popped onto the horizon. I started paddling out to not get caught inside and Nic yelled from the ski, "Stay, stay!" I passed up the first wave to see the second one looking like it was going to crest. Nic said, "This is the one. Go. Go!!" and without much time to think I put my head down and paddled into the right. That was the biggest wave of my life.

While we were in Nazare another swell showed on the charts, this one a hair smaller but again with clean conditions. Nic decided The Cave, one of the most dangerous waves in the world, was the call. It looked terrifying from the rocks, but after seeing Tom Lowe jump in and paddle the first wave I got excited and paddled out. I sat out there with Lowey at the takeoff for a few sets, realizing there was no entry on them. It was the medium waves we wanted. As a wave approached I had to psych myself up in order to send it over the ledge beyond the dry reef in my periphery. With Tom yelling from above I was able to make the drop, pull up into the tube and get shot into the channel with the spit. Somehow, I had made both my first paddle waves at Nazare and the Cave. I guess it's true that fear can make you do things you never thought possible. Thanks to Nic and the Portuguese locals for sharing their insane waves with me. I'll be back soon.

Nate Zoller - Portugal (The Iberian Peninsula)
Footage by: Kenny Kemp, Tim Bonython, Bruno Dias, Joao Tudella, & Nate Zoller