Boboshanti Fortress
We wind and swerve out of Kingston towards Bull Bay, the home of Shama and Ivah. We hang a left and start making our way up a semi-steep incline, passing many people that are waving and smiling as we cruise through their little neighborhood. Alas, we see an older man, his locks wrapped tightly in a turban on top of his head. The man is making a motion with his hand, insisting that we keep on driving as he appears to be a lookout perched on a grassy knob. The only thing this man was missing was some sort of semi-automatic weapon and you would have thought we were entering a rebel army camp. Quite the opposite: we are headed to the BoboShanti camp, one of the most notorious Rastafari camps in all of Jamaica and certainly a more orthodox interpretation of the creed. Our tires are spinning out in the muddy gravel filled road as we finally arrive outside a very large and in charge wooden wall with a massive gate vibrantly painted red, gold, and green with black stars. There is a beautiful view below us of Bull Bay and 9-Mile Beach. We approach the gate in our vehicles and a man steps out from behind the gate to verify who we are. Luke gives him a big "Rahspec!", puts his left hand over his heart, and says what would become a staple saying on the trip: "Give thanks and Praise."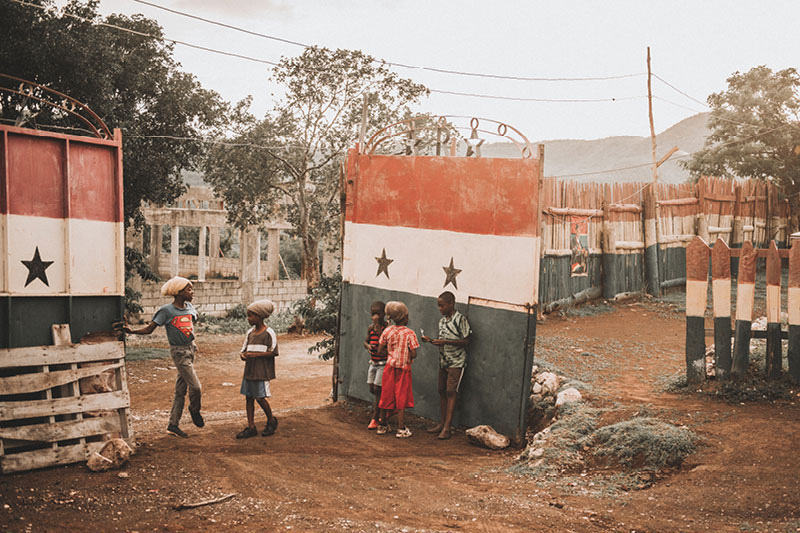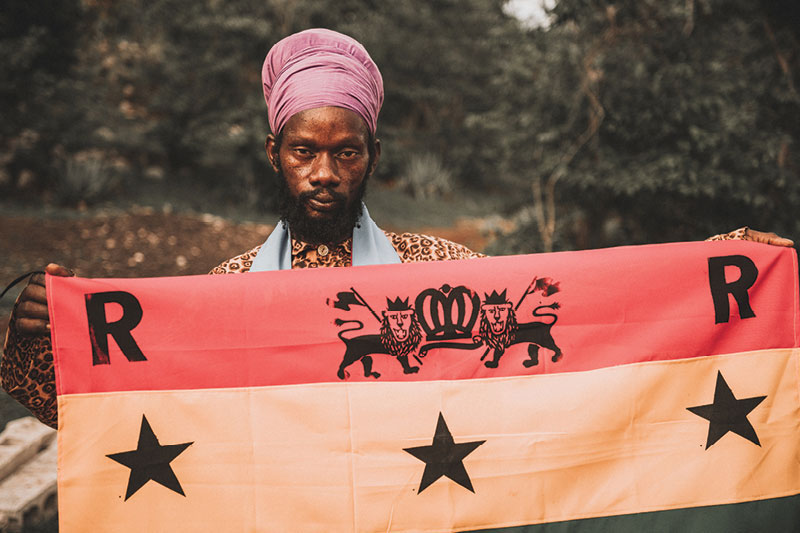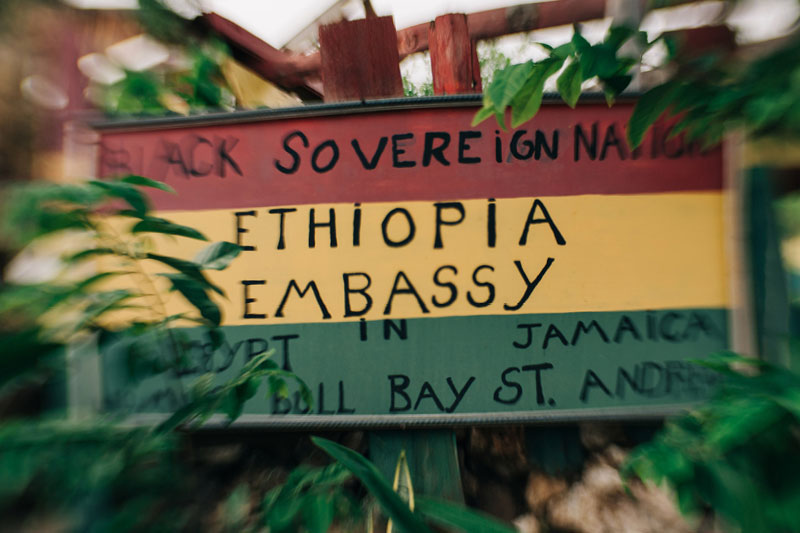 We proceed through the gate and come to a stop as the Gatekeeper approaches like a customs and border protection officer. He does an overall assessment of our crew and upon laying eyes on my bare legs protruding from my shorts he says: "Yah mus covah yah legs". Praise Jah for the sarong, a very versatile travel companion that was about to become my appropriate ensemble. I'm not out of the woods yet; he continues his inspection and says: "Yah mus covah yah head." A t-shirt suffices for about five minutes until I see him walking back to me, smiling from ear to ear, holding what looks like a small green tablecloth. He steps behind me, tilts my head back, and proceeds to meticulously wrap up my locks until not one strand of my dirty-blonde hair is visible. What service, not unlike having your own personal stylist, although there is only one look around here for the ladies and it resembles a more colorful version of being a Nun.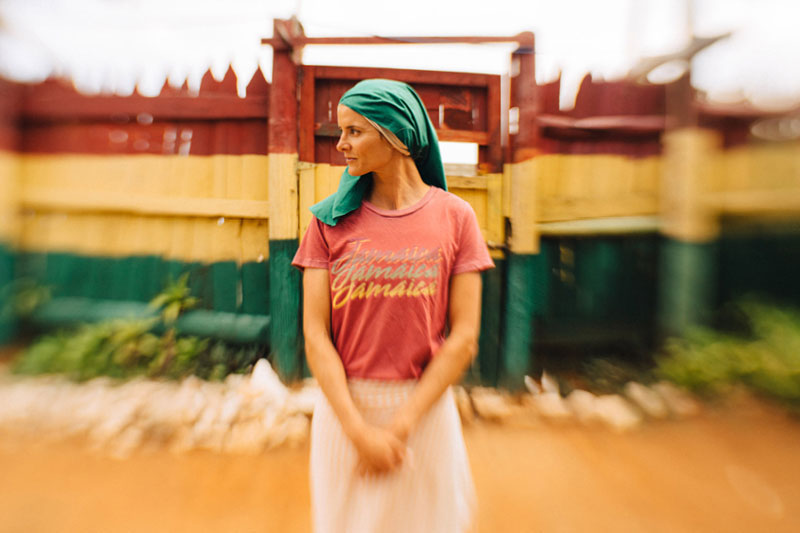 Now that I am finally equipped with the proper wardrobe, we proceed further into the camp and it becomes very apparent that there are no other women around. My only guess is that Aunt Flow may be paying a visit to all of the Empresses and they had to go into hiding. We walk through the very humble, rustic, yet impeccably clean camp to a small building which is used as a museum to pay tribute to fellow Rasta's. There are many photos and newspaper clippings exalting His Majesty, Emperor Haile Selassie I. We all inscribe our names into a welcome book, state where we are from, and then make preparations for the welcome prayer. First, we must empty all materialistic items from our pockets as you are forbidden to have any foreign objects touching you other than your clothes. The men must put their hands together with just fingertips touching and point them away from their bodies. The women, or just myself, must put the left hand over the heart. We all must face towards the door opening.
The prayer is said by one of the camp leaders; it is short, sweet and meaningful. Once the prayer has concluded, we receive a beautiful tour around the rustic and spiritual camp.
We congregate into the main gathering area to observe a few of the BoboShanti camp leaders perform songs; better known as Niyabinghi chants, which are strong, deep, impactful, and sing of hard times and struggles endured.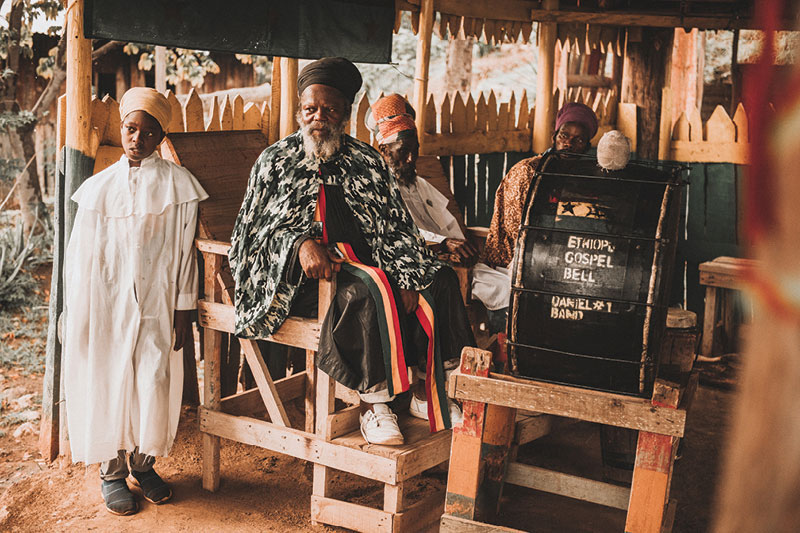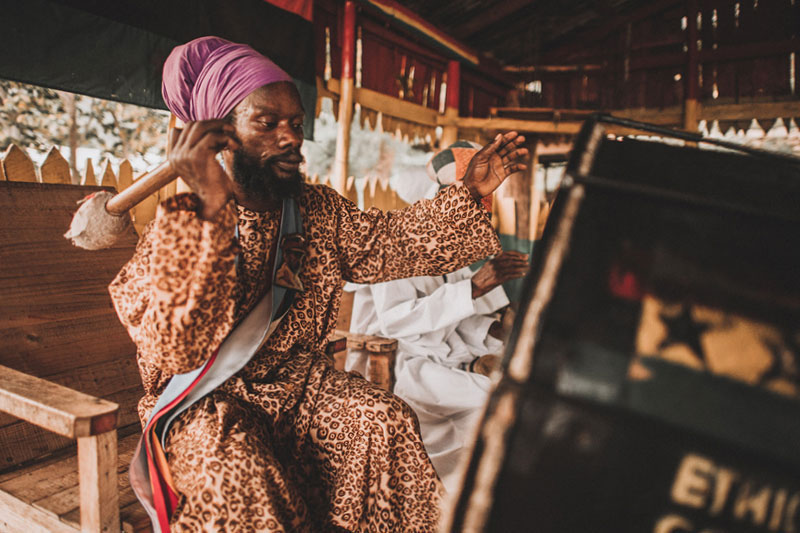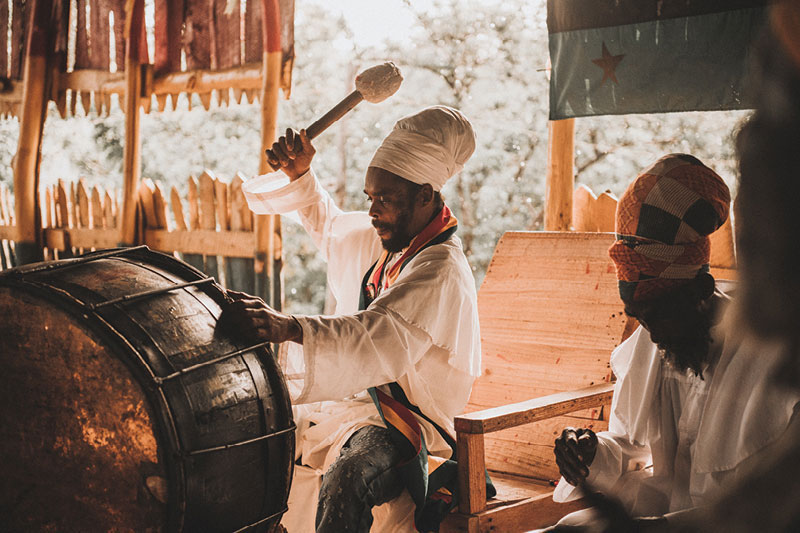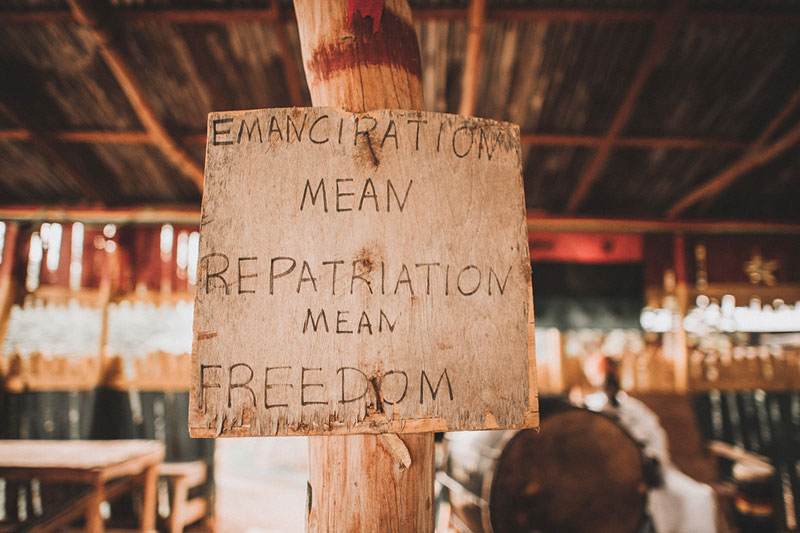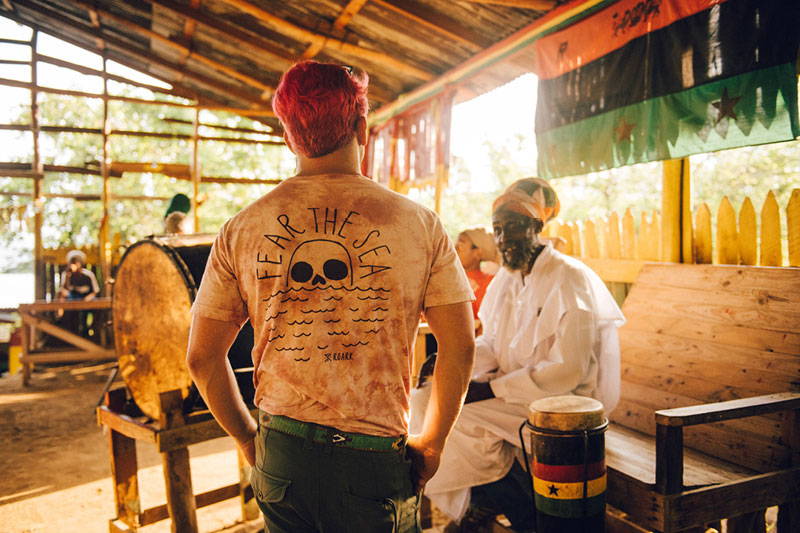 The music and the lesson that is preached brings to light that these Rastas in a whole are not pleased with Reggae music and certainly are not as psyched on Bob Marley as you and I are. Did Bob have it all wrong? Was it blasphemy and similar to how Ray Charles took gospel music and turned it into blues and jazz hits? True Rastafarian music is six beats whereas most reggae that is played now is four beats.
The rain starts to fall with the heavy beat of the goat-skinned drum and the sun gleams through the tiny holes in the corrugated steel roof. The children gather around, small and beautiful with big innocent brown eyes; all of them with their locks wrapped up in different colored turbans. Once the musical performance is over, the kids lead us to the trails that connect the whole camp together. They eagerly start to climb the trees and toss down beautiful little sweet plums. These children with beaming smiles couldn't have been more hospitable and welcoming. We end at a long shed, where Priest Radcliffe shows us how they are able to sustain their lifestyle in this humble fortress. "We make deez broom and den we gwan down da streets and sell dem in Kingston town." A very crude and rustic broom, similar to a witches broom with what appears to be an actual tree branch for the stick. We walk out with our own Boboshanti Broom, a prized possession, and a very special souvenir.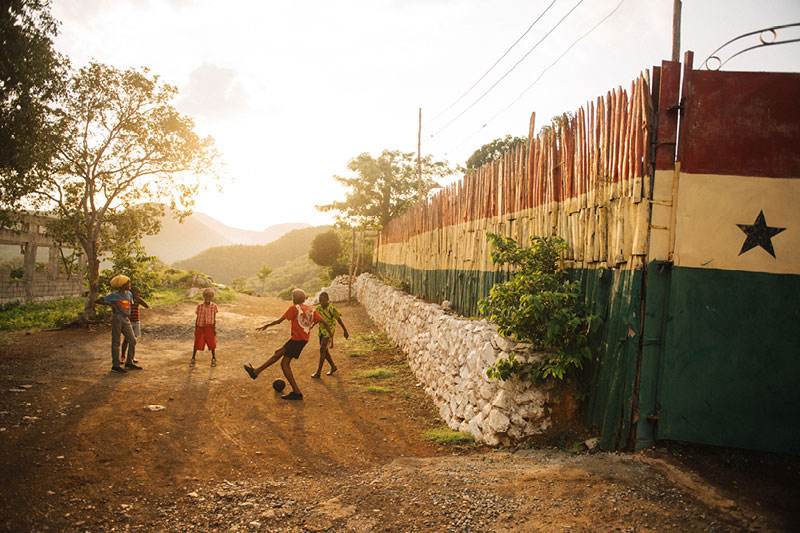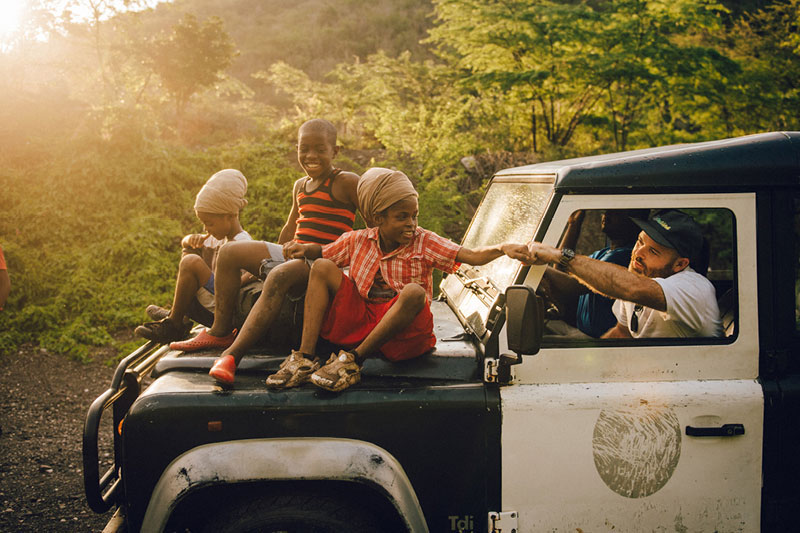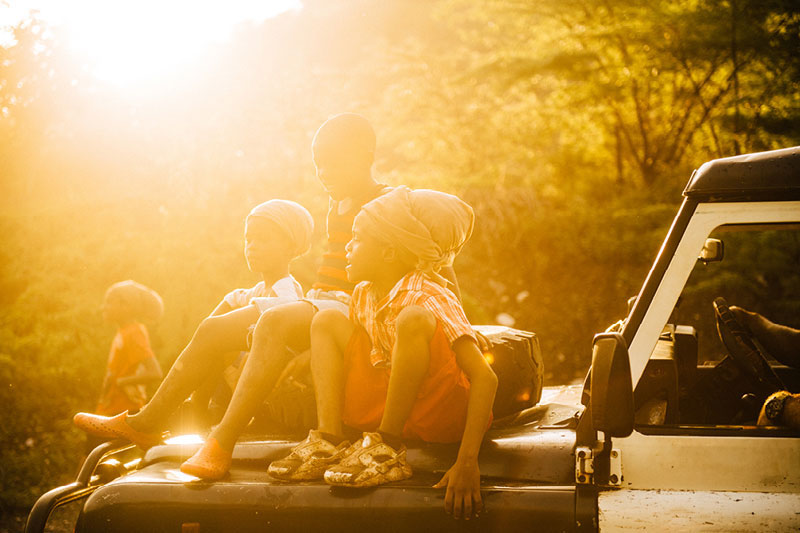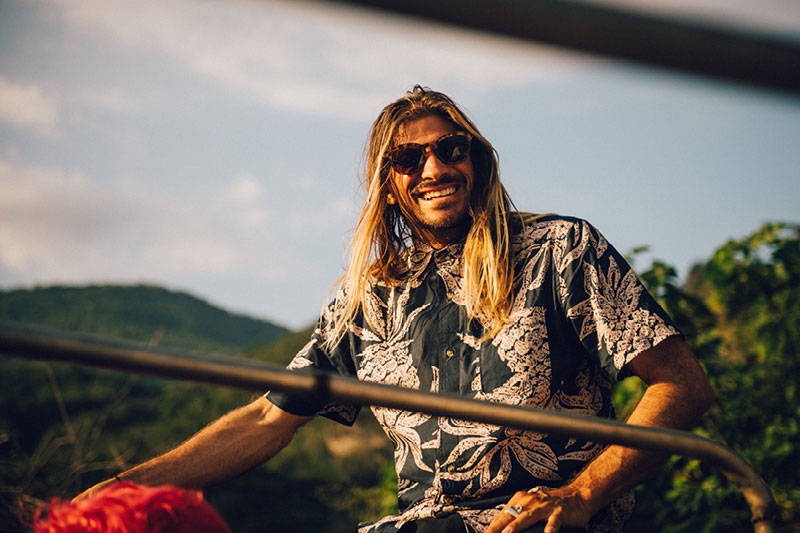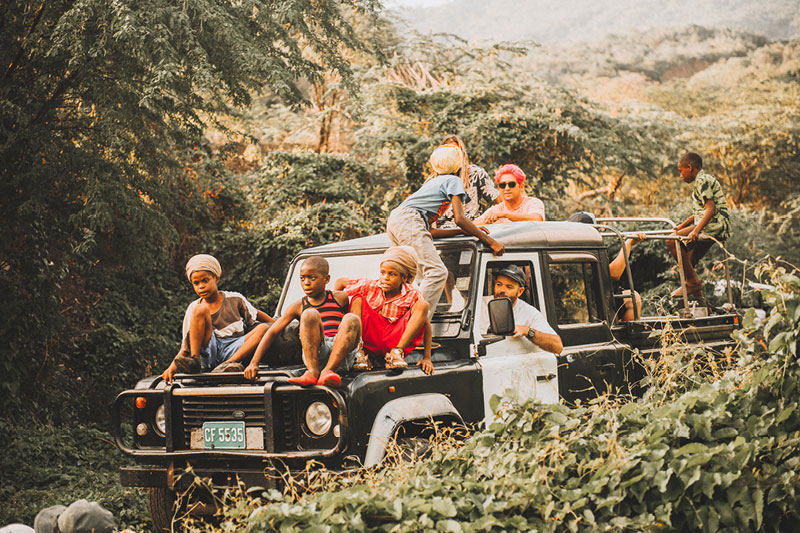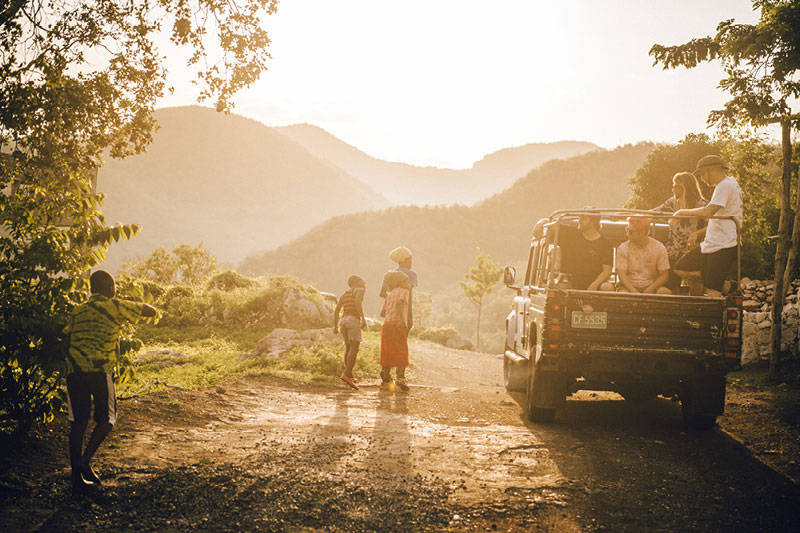 As we drive out of the gates, we carry with us a totally different viewpoint and feeling in our hearts than when we first drove in a couple hours back. We wind down the steep gravel road with tires skidding, the brakes trying their best to keep up as the little BoboShanti kids chase after us. Grabbing onto the back of the truck, they bump all the way down the hill with us, smiling from ear to ear and giggling uncontrollably. They finally jump off, knowing that their walk back up the steep hill to their Boboshanti fortress is now a significant hike. The simplicity and pure gentleness in their faces is something I'll cherish forever. They were nothing but kind to us and they were only embracing the truest and most beautiful part of life while strictly living in the moment. We may all be different, pray differently and have different traditions, but in the end, we all just want to smile, laugh and truly learn to live in the moment. As these little Boboshanti children skip back up the hill, in and out of the setting sun's shadows, I watch them in the side view mirror become even smaller, and I start to grasp the true meaning of "Give thanks and Praise."